Wisdom teeth removal is a common oral surgery procedure. It's often recommended as a preventative measure to protect your other teeth from future problems and preserve your oral health. Recovery is usually quick and most people can return to normal activities in just a few days.
Why should you have your Wisdom tooth extracted?
Wisdom teeth are a third set of molars in the back of your mouth. They usually come in between the ages of 17 and 25, and they're spotted on X-rays. Most people have them removed for one of these reasons:
They're impacted. Because they're so far back in your mouth, wisdom teeth may not come in normally. They can be trapped in your jawbone or gums, which can be painful.
They come in at the wrong angle. They may press against your other teeth.
Your mouth isn't big enough. Your jaw has no room for an extra set of molars.
You have cavities or gum disease. You may not be able to reach your wisdom teeth with your toothbrush or dental floss.
Advantages of Composite Fillings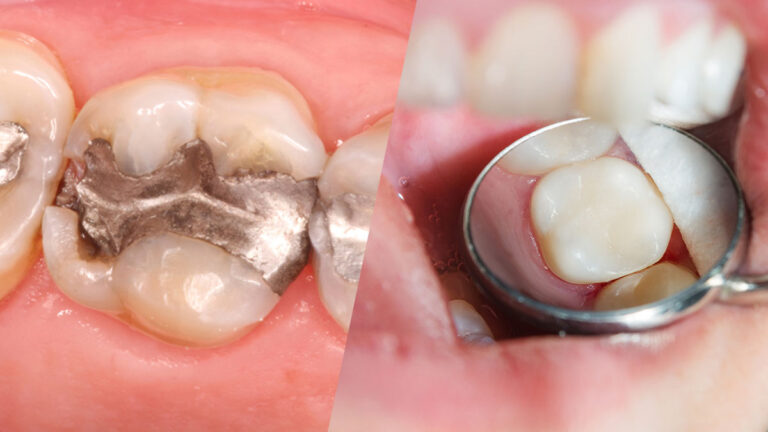 Unlike amalgam fillings, which are composed of visible metal, composite fillings are intended to look like your natural teeth, so they blend in and are less noticeable when you smile. This makes them an excellent choice if you need to alter the appearance of a tooth, for example, by changing a discolored tooth, repairing chipping or mild decay, or filling in gaps between neighboring teeth.
They look practically invisible since they are color-matched to blend in with your natural teeth.
They can be used to fill small to moderate cavities in the front or back teeth.
The resin compound bonds very well to tooth enamel, making fillings less likely to pop loose.
They are versatile enough to also be used to fix superficial flaws, like a small chip in a tooth.
The material isn't affected by temperature or prone to expanding or contracting.
Composite Fillings Before & After​
Book an Appointment today!
Frequently Asked Questions

Improperly erupted wisdom teeth can cause many problems. They have the potential to damage nearby teeth, bone and roots and invite bacterial infection, which in turn leads to pain, swelling, jaw stiffness and other difficulties.
The most serious problem related to impacted wisdom teeth occurs when tumors or cysts develop, resulting in the destruction of both bone and healthy teeth. Extraction of the wisdom teeth usually prevents these problems.
Early removal is generally recommended to avoid complications and decrease any risks involved.

The dentist can evaluate current problems or the likelihood of any to arise with an exam of the mouth and X-rays. Treatment is far more successful when wisdom teeth issues are diagnosed and addressed early. Patients typically receive an initial evaluation in the mid-teenage years by a dentist, orthodontist or an oral surgeon.
Extraction of the wisdom teeth involves opening up the gum tissue over the tooth to remove any bone that covers the tooth. The connecting tissue is then separated so that the entire tooth can be removed. The area is sutured closed and covered with gauze to control bleeding. Most wisdom teeth procedures can be performed in a dentist's office under local anesthesia, although some patients may require general anesthesia if all four wisdom teeth are removed at the same time.
Book your Appointment today!
Whether you're visiting us for professional teeth cleaning, a routine dental health check or something more extensive, our qualified dentists at Picasso Dental Clinic offer a wide range of comprehensive dental services. It's our aim to be a one-stop dental experience for you and your loved ones.