Tooth-colored Composite Filling
Tooth decay and cavities are common dental issues. Receiving a tooth-colored filling to restore your tooth helps prevent the problem from developing into something worse.
What is a Composite Filling?
A filling is a simple restoration procedure primarily used to restore cavities or mild decay or deterioration. Fillings are extremely common and have a high success rate. We offer options for composite fillings and porcelain fillings (also known as Porcelain inlay/onlay/overlay) – both are safe to use. 
There are many types of fillings we use, and composite fillings are the most commonly used because they appear more natural for visible teeth and are easier to see.
It typically takes less than an hour to place a composite filling.
Advantages of Composite Fillings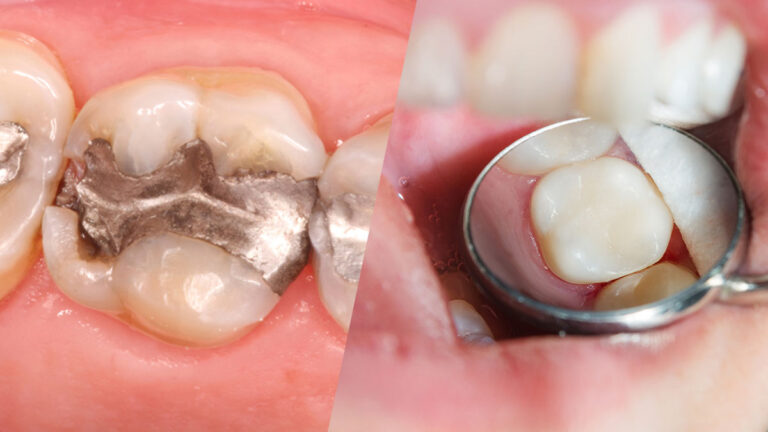 Unlike amalgam fillings, which are composed of visible metal, composite fillings are intended to look like your natural teeth, so they blend in and are less noticeable when you smile. This makes them an excellent choice if you need to alter the appearance of a tooth, for example, by changing a discolored tooth, repairing chipping or mild decay, or filling in gaps between neighboring teeth.
They look practically invisible since they are color-matched to blend in with your natural teeth.
They can be used to fill small to moderate cavities in the front or back teeth.
The resin compound bonds very well to tooth enamel, making fillings less likely to pop loose.
They are versatile enough to also be used to fix superficial flaws, like a small chip in a tooth.
The material isn't affected by temperature or prone to expanding or contracting.
Composite Fillings Before & After​
Book an Appointment today!
Frequently Asked Questions
Book your Appointment today!
Whether you're visiting us for professional teeth cleaning, a routine dental health check or something more extensive, our qualified dentists at Picasso Dental Clinic offer a wide range of comprehensive dental services. It's our aim to be a one-stop dental experience for you and your loved ones.